historic 1600s residence overlooking Lake Orta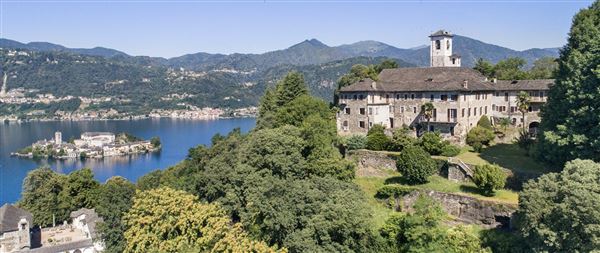 ---
---
Orta San Giulio, Italy
€5,900,000
---
---
In Orta in Piedmont, for sale a splendid historic residence from the 1600s overlooking Lake Orta. This unique property is a former monastery, which over time has become an elegant private home. The family of the current owners fell in love with the beauty of the property and the wonderful view of the island of San Giulio, an important tourist attraction on Lake Orta.
The structure of the building is made of blocks of local stone and Baveno pink granite, typical materials for building period villas. The position on the top of the hill dominates the lake. In the vicinity of the property for sale, there are the chapels of the Via Crucis del Sacro Monte di Orta. The property is located within an area of approximately 8,000 square meters, partly in the park, partly in the lawn and partly in the woods. The floral essences are those typical of Lake Orta and Lake Maggiore, in fact they are distributed among magnolias, azaleas, camellias and hydrangeas. Who knows how to appreciate the beauty of nature and silence, finds in this characteristic property an ideal place for reflection and relaxation. The internal distribution of the spaces remained the original one. The charm of history and tradition has been maintained. The internal details, for example the terracotta floors, the stone fireplaces and other details reveal the charm of the 17th century. The roof structure is formed by chestnut beams, while the roof is in the typical stone structure (piode).
Internally, the surface measures over 2,200 square meters, divided into 19 bedrooms, 8 bathrooms and a master apartment. Everything revolves around a cloister, typical of monastic structures. The maintenance conditions are good, even if the whole property needs an update in the systems.
Adjacent to the property, there is the beautiful Church of Saints Nicolao and Francesco, a place that welcomes many couples from Italy and from all over the world, who intend to get married in a place full of charm.

Property Features Include: Historic Home

Approximate Square Meters : 23950 m
Web id: FIJG
MLS#: 2891267
APPROX. SQ. M: 23950