Crete view villa for rent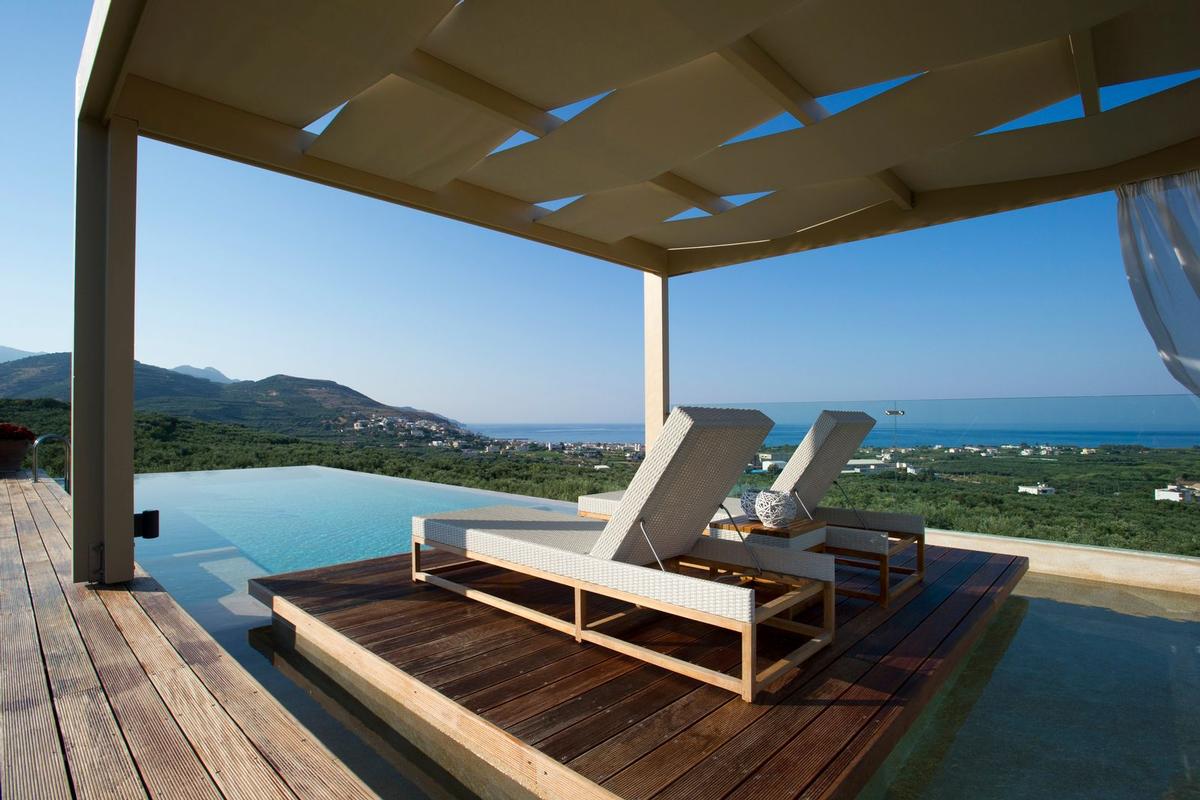 A luxury villa 200 M2 built on a plot of land 5.000 M2 located in Crete. This Cretan property sits dominant upon a hill, just 20 minutes away from the city of Chania and offers amazing sea views.
The exterior space that surrounds this Cretan vacation rental villa is defined by the gardens: elaborate, carefully tended to and in keeping with the land that is its host, Mediterranean in style. The swimming pool and its crystal clear, turquoise waters, is large and impressive. And the landscape, magical in its natural beauty, is ideal for total relaxation and well-being.
In its interior, every element has been carefully chosen with a commitment to satisfying the senses; everything down to the tiniest detail exudes an air of luxury, professionalism and hospitality.
Built on 3 levels, the villa unfolds before you from its central entry in a spacious airy manner, with its unobstructed views, high ceilings and exposed wood beams. Carefully chosen furnishings with earthy hues in the soothing color scheme, personalized touches that include small decorative objects and select lighting fixtures are just some of the elements this luxury holiday villa boasts that suit a variety of needs and desires.
On the ground floor, an open-plan entry hall leads into a spacious living room with its welcoming fireplace and oak wood floors. Its natural extension is the dining area with its wooden family-size dining room table. Equipped in a contemporary fashion with a vintage flair, the kitchen is at the ready to correspond to any gastronomical inspiration requested of it, using ingredients sourced from the property's organic vegetable garden and plentiful fruit trees. The ground floor layout is completed with the master bedroom, with its king size bed, adjacent patio and well-appointed bathroom.
The villa's exterior, with its roomy patios, covered outdoor living spaces and cozy corners including the BBQ area, create yet another stage set for unforgettable holidays.
A wooden staircase leads to the first floor which boasts two more bedrooms, with hardwood floors, walls adorned with select works of art and comfortable beds– queen size in the one bedroom and two twin beds in the second. The rooms' spacious interiors naturally extend to the outdoors with the two separate, private balconies. Fluffy bathrobes and towels, personal slippers, bath and personal hygiene products round out the amenities of the first floor bedrooms' shared bathroom.

Property Features Include: Gated Entry, security alarm and surveillance cameras, in-ground pool, private parking, air conditioning, central heating, patios, barbecue

Views Include: Water

Architectural Style: Contemporary, Mediterranean
Parking: private parking
Languages Spoken by Host: english, greek
Rental Type:

Vacation

Smoking:

Yes

Deposit Required:

No
Rental
Web id: CFJY
MLS#: 1066
Bedrooms: 3
Bathrooms: 2
Partial Baths: 1